Have you ever had a hard time finding a great place to wash your horse blankets? Or have them repaired? Laundromats typically don't allow horse blankets, and repairs can be difficult to find someone who can do them well. We offer services for both of these needs. We offer horse, dog and other farm animal blanket washing and repair services to most of Central New York.  Several times a year we schedule trips to pick blankets up from boarding farms. If you would like to have your farm added to our pick up list emails please join our mailing list below. 
We do wash blankets year round and offer repair services as well. If you need blankets washed outside of our seasonal pickup window please feel free to print the form off below and bring the blankets to the store in Marcellus, NY. 
We use the cold cycle only, blankets are washed in an EQyss Blanket Wash. The EQyss blanket wash is effective at deep cleaning your blankets while being safe for your horses skin.  If you choose, we run the blankets a second time to waterproof using Nikwax Rug Proof wash on solution. It is SAFE for uses on all products for animals.
After your washing and optional NikWax Rug Proof Waterproofing is completed we then extract the water from the blankets and air dry them for the following couple days.
If you select repairs we complete them at the end. We do offer repairs without washing as well if requested. 
Your blanket will come back to you looking (and smelling) better than ever!
Please print off the Service Order Form and have it filled out with all the pertinent info and put it in the bag with each blanket. This will ensure we don't mix up or lose anyone's blankets. We have a strict tracking system in place to ensure we keep each persons blankets and orders just right!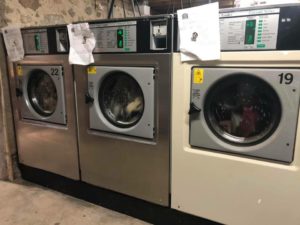 Please fill out the form completely and put one form in each individual blanket bag. Each blanket should be put in a bag separately with one completed form. 
What our customers are saying about our washing service:
"Hi Kate, I just wanted to tell you what a great job you did with the blankets!! You mended everything so well, and they are so clean–just like new. And very reasonable rates. Thanks again. I hope you will continue this much needed service!"